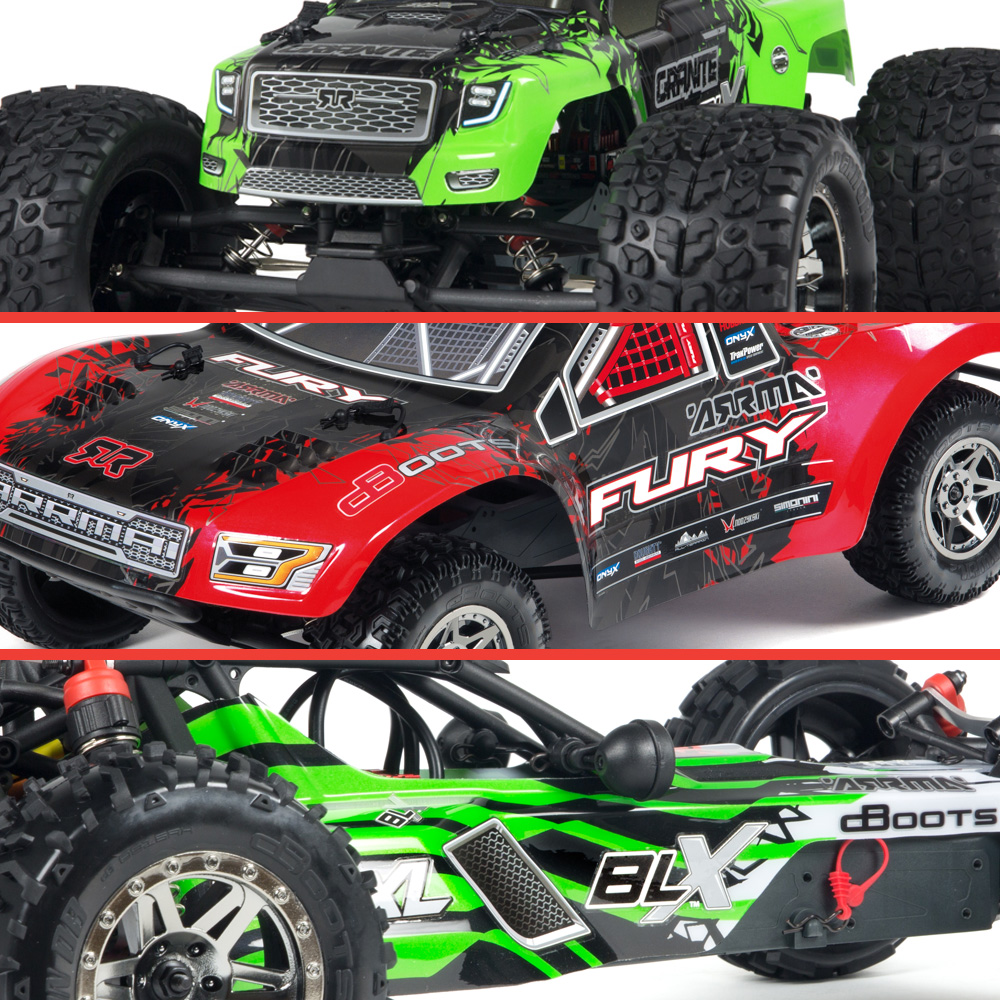 Check out our new range of BLX vehicles, available soon at your local dealer/model shop.
Designed to be fast, designed to be tough, the GRANITE BLX 2WD Monster Truck is primed to blast across any terrain. Ready-to-Run and ready for action, the BLX Brushless powered GRANITE provides adrenaline pumping RC action, no matter what the conditions.
The FURY BLX will launch you into 2WD Short Course action, straight from the box. Harness the super-fast BLX brushless power as you attack the roughest environments with super-tough components and waterproof electronics.
The RAIDER XL BLX is a super-tough all-terrain Desert Buggy that is ready for extreme RC action, straight from the box.
Equipped with the awesome performance of the ARRMA BLX 3800kv brushless motor and BLX85 waterproof ESC, the RAIDER XL BLX is 1/8 scale, for ultimate stability on all surfaces.
These new ARRMA BLX vehicles are equipped with the ARRMA BLX85 Brushless power system which provides awesome speed, long-lasting reliability and super-efficient operation on the roughest terrains.
The aluminum body motor body keeps you running cool, even when you are using the full potential of the 3800kv power. Teamed with the super-strong and reliable 60 amp rated waterproof BLX85 ESC, this high-performance power system allows you to access extreme RC action with very little need for servicing.
You can achieve speeds beyond 60mph by following our supplied tuning path.
For more information, check out the following links:
GRANITE BLX:
http://www.arrma-rc.com/rc-cars/latest/granite/blx
FURY BLX:
http://www.arrma-rc.com/rc-cars/latest/fury/blx
RAIDER XL
http://www.arrma-rc.com/rc-cars/latest/raider-xl/blx
BLX85 Power System:
http://www.arrma-rc.com/power-systems/latest/blx85